A Grazing Agreement is a contract entered into between two parties whereby one party (the Licensor) provides the other party (the Licensee) with the personal right of access to the Grazing Land for the purposes of grazing.
This agreement regulates the relationship between the parties, stipulating the terms and conditions upon which the agreement is based.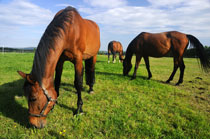 This agreement is ideal in cases where someone wishes to allow others access to their property for the purposes of grazing, in exchange for a fee. This is a comprehensive agreement which contains the essential clauses necessary to ensure that both parties' interests are protected.
The Agreement contains the following clauses:

1. Definitions
2. Interpretation
3. The Grant
4. Use of the Grazing Land
5. Duration
6. Payments
7. Duties of the Licensee
8. Maintenance and Repairs
9. Restrictions on the Licensee
10. Licensor's Exclusion from Liability and Indemnity
11. Licensor's Right of Access
12. Transfer and Sub-letting
13. Insurance
14. Breach
15. Notices
16. Governing Law and Jurisdiction
17. Counterparts
18. Signatories